Background on The Far North, Portrait of the Arctic
My first visit to the Arctic was in 2003, to Coldfoot, Alaska, a hamlet with population of 10 adjacent to Gates of the Arctic National Park along the Dalton Highway and near the Alaska Pipeline. Coldfoot is surrounded by beauty. But its weather changes rapidly.
In 2006 I photographed six Arctic communities in Greenland (Kalaallit Nunaat) – Kulusuk, Tasiilaq, Ilulissat, Kangerlussuaq, and Upernavik. [link to gallery]
In 2012 I photographed in the second largest community in America's Arctic, Kotzebue, Alaska. [link to gallery]
In 2013 I photographed in Barrow, Alaska, America's largest Arctic community and the northernmost city in the U.S. Barrow has an average annual temperature of 11.8 degrees Fahrenheit. [link to gallery]
In 2014 I photographed in five communities in Nunavut, in the Canadian Arctic, first visiting Kugluktuk ("the place of moving water"), located almost half-way from Spokane, Washington due north to the North Pole, and then three communities on Baffin Island, Nunavut, across the sea from Greenland:  Iqaluit,  Clyde River, and Pond Inlet. One of these communities, to give an idea of the remoteness, Clyde River, has a population of 930.   It is the largest community for more than 250 miles in any direction.  It has one hotel, with six rooms.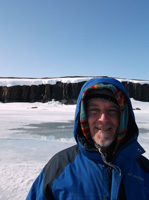 Lastly, also photographed in 2014 were five Arctic communities in far northern Norway and far northern Russia:  Longyearbyen, Svalbard, Norway (the world's most northerly town, 819 miles from the North Pole), Barentsburg, Svalbard, Kirkenes, Norway, Titovaka, Russia, and Murmansk, Russia.  Barentsburg is a Russian mining community in Svalbard with a population of about 400.   Titovka is a small hamlet on the northern-most highway in the world, between Kirkenes, Norway and Murmansk, Russia.   Murmansk is the Arctic's largest city, with a population of more than 300,000 people.